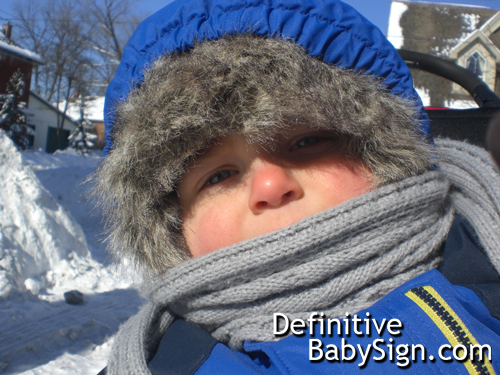 Surprising to most non-signing parents, it's not a whole lot different than theirs.  Signing parents still follow all the routines that a non-signing parent does and this part might not be that surprising.  However, what might be surprising is that there is never time specifically set aside for baby signing.  Rather signing happens, when it happens.  Signing takes place whenever you say a word that you want your baby to sign back.  It's not much more complicated than this.
So while you change your baby's diaper, you will sign DIAPER a few times.  Then around breakfast you might sigh MILK, TOAST, EGG and so forth.  On a morning walk you will sign WALK, BIRD, CAT, CLOUDS and so forth.  At mid-day you sign NAP, BED, TIRED and BLANKET.  This routine carries through the entire day and whenever you want to sign, you just do.  Many novice signers think you have to put your baby in signing boot camp, but this couldn't be further from reality.  In fact, doing so might be the most unproductive way to teach a baby to sign that I've ever heard.  So if you want to sign, just sign as you communicate without setting up signing sessions or intervals.  This is probably why learning to sign online at your own pace is so much better than taking signing classes.  It's a big myth to think that it's the signing class in which your baby is learning to sign from a signing instructor – but this isn't so.  Rather the instructor is trying to teach you how to teach your baby to sign.  Having babies at your signing class is just a huge distraction!
So while you consider whether or to introduce signs – save yourself the aggravation and just start now…seriously learn a sign and do it enough times so your baby repeats it back to you.