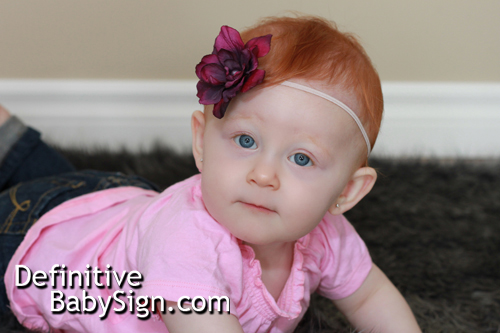 Grandparents love to sign with their grandchildren.  They will be absolutely dumbfounded if they haven't yet witnessed a signing baby!  Because a baby is of relation will make this new experience even more special.
Start off by taking the time to explain the basics of baby sign language.  Make sure you tell new signers that you always sign and say the word each time.  Be sure to make it clear that baby can hear too and that you're not supposed to just do the sign by itself!  I have found this to be the most common mistake and probably has a lot to do with the fact that new signers aren't accustomed to moving their hands in perfect unison with the words they are saying.
Next you will want to do a run down of your baby's basic signs and the ones he most commonly uses.  Try having your baby show your new signer their version of the sign and then show them how the sign is done (correctly).  This should hopefully spur the new signer to practice the sign a few times themselves.  If you know the route of the sign, tell them an easy way to recall the sign.
Lastly, have your new signer observe your baby in action as they would normally and show them all the wonderful benefits that signing brings to your family.  Over the course of a just a few short hours you'll hopefully get to demonstrate what a two way conversation appears like with a signing baby!