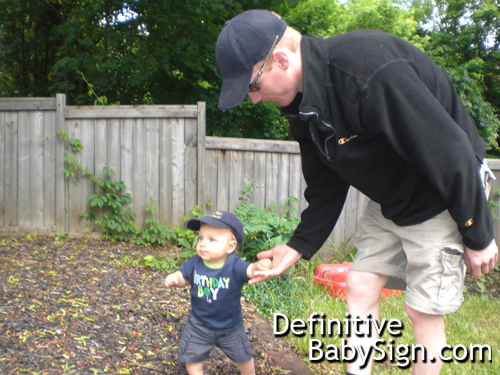 Many people are unclear about what it really means to be a parent.  I for one, never really understood the full scope of the operation until I was deeply immersed into my second year as a Dad.
For one, I assumed I would be able to take my toddler on small construction jobs with me and toss him in a play-pen.  Boy was I off!  I ended up spending alternating days one-on-one with my boy instead.
If there's any one piece of advice I would give to new parents, is to expect to be a glorified assistant to your baby.  You might think you're doing much more than this (and you are), but if you really boil it down, you're just doing things that your baby can't do yet.  You will feed your baby when he can't coordinate his arms or reach the stove, you'll change his diapers when he can't figure out how to use the toilet, you'll dress your baby until he can coordinate his clothes and on and on and on.  You'll also love your baby unconditionally such that he grows to care for others and himself.
As your baby ages, he'll take on more and more jobs on himself allowing you to become more free of your facilitator status.  As the years pass, your child will mature and in a flash, will want to prove he's a different person than you.  Puberty.  Then he'll experiment, go to school, travel and try to find a new niche.  All along you'll have less responsibility and control over what your baby does.
One day, your baby will be gone, only to revisit on occasion when his life isn't too hectic.  Sometimes your baby will call, and sometimes he'll bring you another baby of his own to love.
But while you're thick into parenting, remember, that your job is short-lived.  It won't last forever, and your job isn't to do for your baby, to serve him, but rather to facilitate him doing things for himself.  Parenting seems complex, but it can be boiled down to the basics.
By doing so, you can keep your and his evolution in perspective and appreciate every moment.