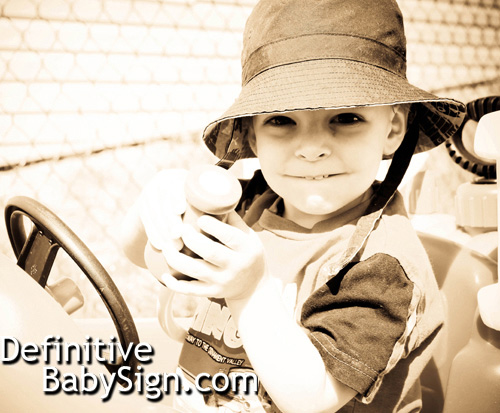 Research over the last 25 years by baby sign pioneers Drs. Acredolo and Goodwyn has revealed some pretty amazing benefits to signing with hearing babies.
Amongst the benefits to baby signing are:
– A reduction in frustration amongst parents and baby.
– Promotion of intellectual development.
– Increased vocabulary when verbalizations start.
– Increased maturity and self confidence in baby.
– A method to uncover a baby's world.
– A greater bond between parent and child.
Because of these benefits, you might find hearing babies signing just about anywhere now-a-days.  It's not uncommon to see regular folks like yourself, exploring the world of baby sign.  By now, you've probably heard of seen a friend sign with their baby.  Don't wait too long, start signing with your baby today!